Freqently Asked Questions 
Tuition Fee and Saving Up Pre-course 
What is the cost of the programme?
To enrol to DNS, you need to pay an enrolment fee of €1.000, which covers the enrolment expenses.
1st year
The tuition fee for the first year is €11.800. It covers food, accommodation, travel and other programme expenses. You can come with the tuition fee at the start of the programme, though most students join our Saving Up Pre-course to earn the tuition fee. Read more about it here.
2nd, 3rd and 4th year
The tuition fee and living expenses for the 2nd, 3rd and 4th year are covered by the programme elements Saving Up periods and Teaching Practice where you will earn a salary.
See the whole programme here.
What is "Saving Up Pre-course"?
If you can't pay the tuition fee from your funds, you can join our Saving Up Pre-Course and earn the tuition fee of the 1st year. The tuition fee of the 2nd, 3rd and 4th year are covered by different working periods integrated into the programme. Ultimately, this means that if you join the Saving Up Pre-course, you only need the enrollment fee of €1.000 to join DNS. And there are no more extra fees for the four years. Sounds too good to be true? See how it works here.
When does the Saving Up Pre-course team start?
The Saving Up Pre-Course starts every year on the 10th of August (1 year before the start of the programme), to allow participants a whole year to save up for the tuition fee. If you already have some available funds, you can start later. Feel free contact us to discuss your situation and help you make a plan.
What kind of jobs can I get in the Saving Up Pre-course?
DNS has cooperated with employers in Denmark for several years. Depending on your skills and previous experience – and what needs the employers have at the moment – the teachers at DNS will work with you to find a suitable position. The most common jobs that students get are as a support teacher/pedagogue in our care homes and schools for challenged youth and adults. Other positions might include:
 Driver

 Building/construction work

 Cooking/cleaning

 Farm work/gardening
Application Requirements & Process 
What are the requirements to apply for DNS?
To join DNS you need to have:
A passport of an EU member country, Norway, Iceland or Switzerland.

Finished high school.

Been clean from heavy drugs in the last 18 months.

A conversational level of English.
How can I apply?
Book an online consultation with the admission team, where you can ask all the questions on your mind and get to know DNS better.

Join an online weekend hosted once a month. 

Come for a preparatory weekend at DNS in Denmark.

Have an admission interview with a teacher from DNS.

Agree on a starting date for the Saving Up Pre-course or the programme.
Read more about the process here.
When is the deadline to apply?
We accept admissions year-round. However, the DNS programme begins at the end of August each year. To start in the next team you should apply latest 1st of July.
Can non-EU citizens apply for DNS?
As much as we would like to, It is not possible for non-EU citizens to join DNS, except for Norway, Iceland and Switzerland. We are an independent and private institution in Denmark. Therefore we cannot provide a study visa or any other kind of support to get Danish residency for the applicants outside of EU and the countries mentioned before.
Is DNS only for 'to be' teachers?
We believe that DNS isn't just an education for teachers, but an education for life, and a lot of our students do not aim to be teachers. The vast majority wish to work in the social or humanitarian field and see DNS as a good place to start.
How do we study?
At DNS we study with a learning by doing approach. It means that the DNS programme, including the community life, travels and experiences are in connection with the academic subjects we study. The learning takes place in a team setting with space for diversity for the different students. Overall we emphasise the holistic growth of our students.
The DNS curriculum consists of 21 subjects. Discover our subjects here.
Which subjects will I study?
The academic subjects, paired with the dynamic periods of the DNS teacher training, constitute the backbone and foundation of the teacher training programme. Thus, DNS offers a non-traditional bachelor of pedagogy.
One World University has developed a list of subjects, also called "anchor themes" which fits the practical and experienced-based reality of the DNS programme. Practice, theory, experiences, community and outreach are rolled into one in these 20 subjects, including two specialisations. At the end of the fourth year, students write a bachelor monograph – or thesis.
Original and creative
The subjects of the teacher training programme are original and creatively composed areas of study, born out of vivid imagination and solid knowledge of the world and the human condition.
Together, these subjects tell the story of the teacher training programme at DNS. Since they are closely connected to each of the periods of the programme, they also support the learning processes by connecting practice and theory.
Let us present the 21 gems that are the subjects/anchor themes that constitute the theoretical framework of our unique non-traditional teacher training programme here.
Where will I stay?
You will be based in Tvind international school centre on the west coast of Denmark. see it on google maps.
Food and accomodation
All students have food & accommodation provided at our campus facilities. During the programme-related travels, the DNS teams use the common economy to cover the expenses.
How often can i go home?
Our students go home twice a year, for 2 weeks at a time.
What is the recognition of ISET - One World?
When you start the DNS programme, you enrol yourself as a distance learning student in the programme "Bachelor in Education" offered by ISET – One World, which is an institution for higher learning in Mozambique approved by the Ministry of Education in Mozambique and the Southern African Development Community (SADC).
What can I use the diploma for?
From our graduate experiences, the diploma is useful in getting a job in non-formal and private schools, educational projects, humanitarian projects and similar. It is more difficult to use it in public schools which usually require a national teaching programme, and often require a master's degree.
How is it in my country?

We cannot answer the question precisely, as the demands in public institutions differ per country. We have had some graduates who succeed in getting it fully recognised as an equivalent to a national degree. In other cases, it is partially recognised and you would need to take extra exams to get it recognised. In other cases, it is not recognised at all.
What can we guarantee?
We can guarantee you will have experience in teaching. During our programme, you will have up to 16 months of real teaching experience (much more than most teacher preparations programmes). You will get a certificate for all the practice you have done throughout the 4-year programme and a recommendation from the teaching practice workplace. With this, you will unlikely be short on experience.
You can also make use of the network of our schools in Denmark and projects worldwide. Many graduates have become educators and project leaders at DNS or our partner schools and projects in India, Malawi, Mozambique, Zambia, Guinea-Bissau and more.
Do you want to find out more?
We can connect you with a graduate from your country, who you could ask about opportunities after DNS. Contact us here to do so.
What do graduates do after DNS?
The DNS diploma and experience can be used for all sorts of education, social work, community development projects and much more!
Book a consultation with a DNS representative to discover opportunities after DNS here.
We have collected other stories from our graduates about what they do now and their experience in DNS. Check them out here.
Can I visit or Volunteer?
Short visit
You are welcome for an informal visit for a day or two. Please contact us here regarding the visit.
Preparatory weekend
Once a month we have a weekend for people curious about DNS or potential students. Check the dates here.
1 week volunteering
Throughout the year, we arrange a number of events and camps. If you would like to come and volunteer for a week, you are welcome to apply. Check for the opportunities at our Get Involved page.
Longer volunteering opportunities
Sometimes we need help in the garden or with other projects at the school. We require the length of stay to be at least 6 months. Being a volunteer means to take full part of community life, we will expect you to be fully engaged in chores, cultural and educational activities. Drop us a message here if you are interested.
Do you have a masters programme?
We don't provide a master's degree. Though many students that join DNS already have a bachelor or even a master's degree beforehand. DNS can offer a hands-on education which can be a good support for your past degrees.
Don't have a high school diploma?
If you don't have a high school diploma or 12 years of basic education diploma, You can consider joining our neighbour school at the campus, PTG International Youth College. PTG stands for Practical Theoretical Basic Education and is a non-traditional boarding school for young people aged 16+. There are scholarship opportunities at PTG, and you can also take high school exams which would qualify you to join DNS later. Quite a few DNS students have attended PTG prior to joining DNS.
Want to read more? Check out these blog articles!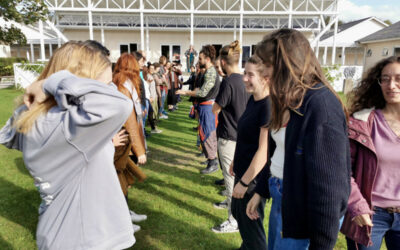 If you are curious about what it is like to live in a community, here are 10 elements of community life that you might find surprising – drawn from the collective experience of our 50-year-old Community in Denmark.