Martin · DNS 2018
If I am to say something basic about me, I would say probably:
1. I am Martin.
2. I come from the Czech Republic
3. I am 19 years old.
4. I joined DNS saving up period to make money for my studies.
Why have I joined DNS?
I have been fascinated by an idea of being in charge of my own education, fascinated by an idea that teachers do not give me a book and tell me: "In a week you have to learn everything from this book, otherwise you will not finish the school.". Here in DNS it is I and my class who are responsible for things we learn and what we do.
I have never been a good boy listening to what to do and how to do it. I was a kind of a rebel against the school system at my high school, but I did not destroy walls, but I organised events for my schoolmates to make the day more interesting. For instance, people had an opportunity to dance on music during school breaks and even a kind of guide got them through the program. I screened documentary movies with debates and I did many other activities related to break the daily routine of the school life
I am overall opened, which might be because I attended a drama club and I have been taking an inspiration from this activity till these days. In a theater play it is immensely important to cooperate, know each other, feel the presence of your co-players, which gives you a huge power to perform the play. And I must agree with words of William Shakespeare that the world is a huge stage. I believe that in DNS I can feel the presence and support of other people in my studies and that together we can perform great things, not only for us but even for the others.
I believe if we want to change something, we must start with children and youngsters (after changing ourselves), we must teach them, how to lead their life in order to stay our society sustainable. It is a circle, if we teach this young generation how to deal with local and world problems, they can teach their future young generation how to do it and so on… But not all the ways how to teach are good, which does not mean that DNS hast the undoubtable solution. But might have at the same time.
I have been here in DNS for very short time and I do not dare to judge DNS, make some statements, how nice it is here, but one thing I know for sure, it will be a challenge with all aspects of a human life, not just in studies. It is not easy to live in a community, travel to Africa, share money and live in different countries, but that's exactly it.
It is a school of life. Learning by doing. And I cannot wait to explore all the opportunities, which I was given.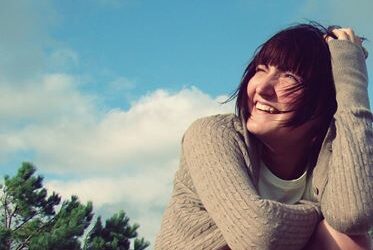 To choose the path of teaching took me some time, I must say. It started on my very first 1st of September, this is the day when the school year starts in Lithuania. I simply loved it. And I am not talking about the lessons and tests, but about all the kinds of people I got to interact with and about the learning process that was happening there, somehow in between lessons most of the time. Though I was in love with the school and Summer holidays always seemed too long of a break, I never thought I will become a teacher. It is now, when I reflect, I see lots of sense in my actions and choices that led me to choose this profession.