Alumni · Justas · Teacher at DNS
A new view upon the world
When I was young I moved to a community school centre – Tvind. This school, and later a college there, changed my life drastically. I had the privilege to travel the world: to Africa for a 4 months bus travel, to Palestine, Sri Lanka, Russia and so on. This gave me a lot of insight into the reality of people in different parts of the world, but also a strong feeling of injustice.
I learned that there is a lot of inequality in the world, I found out that too few do something about it, and I decided that I want to be part of changing that.
The journey together
I didn't take this journey on my own. Other people have always been around me, to guide me and to challenge me. Therefore, I believe travelling alone is not enough. To learn, we need people.
Have you ever heard the saying "1+1 is more than 2"? Maybe it does not fit in math, but I believe this is true when we think of humans – we can do more when we stick together. We can complement each other's weaknesses, we can motivate and challenge one another. We need to meet the people on our planet, to work with them, to learn from them and to use our collective knowledge to make life better for all.
I want to be a Teacher
I decided that I wanted to be a teacher who fights for justice together with the people. A teacher who is not limited by the four walls of a classroom – rather the opposite. I see the world as our classroom and I believe that learning is about being challenged in real life. My life goal is to make the world a better place for all, and I believe that we can achieve this through education – Another Kind of Education.
With DNS…
What makes me feel attached to DNS is that students and teachers together shape the school. Our vision, experience, and methods may differ. But our differences empower us and create something bigger than ourselves. One quote that stayed with me throughout the programme of DNS is:
"You do not join DNS as it is, you join DNS as it is going to be."
My role in the school is the daily running and recruiting new students for the programme. I do believe that DNS is a unique model for schools of the future, therefore I find it important for people to know we exist and give them the possibility to join us on this journey we face ahead.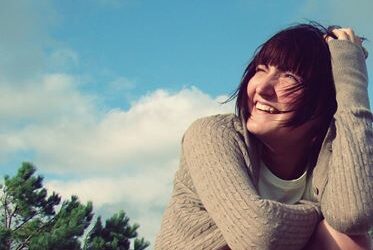 To choose the path of teaching took me some time, I must say. It started on my very first 1st of September, this is the day when the school year starts in Lithuania. I simply loved it. And I am not talking about the lessons and tests, but about all the kinds of people I got to interact with and about the learning process that was happening there, somehow in between lessons most of the time. Though I was in love with the school and Summer holidays always seemed too long of a break, I never thought I will become a teacher. It is now, when I reflect, I see lots of sense in my actions and choices that led me to choose this profession.