Borbála · DNS 2019
Who am I?
I like to notice the colours of the days and sense the shades of moods around me.
I like to dive deep into perceiving each other, sharing thoughts and recognising ourselves in the mirror of other humans.
Nature can impress me every day, as can people. There is an unlimited power that is in both which enables us to grow.
I find joy in experiencing different cultures, food, languages and connecting with people through music.
Dance fills me with passion. I see movements as a wonderful form of expression and self-discovery.
I enjoy being on the road, meeting new people and having and sharing experiences. I'm longing for something, to feel and be a useful part of society and I think that the connection between people could be the first step of this process.
A stranger, constantly searching
I am from Hungary, I have spent 21 years in this beautiful world. I own the name Borbála, which is an old Hungarian name, the meaning is stranger, foreign woman. Sometimes I identify with this, as I tend to catch myself daydreaming a lot about faraway lands with hidden natural wonders where I don't know anyone.
I am constantly searching. Searching is not a period, for me its a state of openness and curiosity for the unknown, absorbing and acknowledging all that is around us.
Alternatives wanted
What does it mean to be a teacher? How have we been taught? How do we teach? Are we willing to learn from each other? Openly, with an appetite and curiosity for the unknown. Are we willing to dedicate ourselves to explore who we are, and by whom we are surrounded by, in the world?
I feel it's a key point to keep questioning what has been considered a norm. I would like to immerse myself into what we assume about learning and teaching and search for alternatives.
I attended a primary school which uses alternative teaching methods (Waldorf or Rudolf Steiner).  It raised me to be and stay open-minded for the people, for the world. I learnt by playing, by singing and through experiencing. It enabled me to explore, to grow and develop on my own rhythm. I tried lots of crafts. Thanks to this process I was able to create an intimate and intense connection between me and the arts. We were all different and by accepting it we were able to create a space for the whole class where it was joyful to study and pleasurable to explore, trust and open up.
The travel dream
I have always been dreaming about travelling. It is a passion that has shaped my life a lot. When I was 19, I left home with only a backpack, thinking that I would never come back.
Since then, I have gained a broader perspective of the world, and my dream has been enriched by the idea of developing the system we live in and the way that we live, to explore societies limits and reshape them, to go out in nature, to work with the strength of my hands and with my spirit, to work together with others on something that inspires us and to feel free.
"Somewhere between right and wrong, there is a garden. I will meet you there."
Searching for alternatives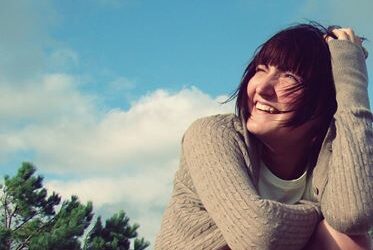 To choose the path of teaching took me some time, I must say. It started on my very first 1st of September, this is the day when the school year starts in Lithuania. I simply loved it. And I am not talking about the lessons and tests, but about all the kinds of people I got to interact with and about the learning process that was happening there, somehow in between lessons most of the time. Though I was in love with the school and Summer holidays always seemed too long of a break, I never thought I will become a teacher. It is now, when I reflect, I see lots of sense in my actions and choices that led me to choose this profession.